You are invited to a live Zoom meeting with Maxie Dunnam and David Chotka to Launch their new book:
Healing Prayer is God's Idea
Embracing God's Invitation to Intercede
When: June 24th - 7:30 p.m. Eastern (6:30 p.m. Central) @ this link: .


Meeting ID: 823 8012 6817
The kindle edition will be on sale for 99 cents US on Amazon.com webpage during the launch.
Those who purchase during that time receive a 1.25 hour seminar with Maxie and David on:
How to Get Started in Healing Prayer
On Tuesday June 29 @ 7:30 Eastern/6:30 Central
---

Healing Prayer is God's Idea
Embracing God's Invitation to Intercede
Rev. Dr. David Chotka and Rev. Dr. Maxie Dunnam have co-authored a book that teaches individuals, prayer teams and churches how to pray for healing.
This book includes medically verified accounts of Divine Healing, including physical, emotional and spiritual healing. It also contains biblical teaching and gives practical guidance on what we should do to prepare ourselves to intercede, and then carry out seeking God for another in healing teams.
Plan to learn about Healing Prayer. It is, after all, God's Idea that we do this.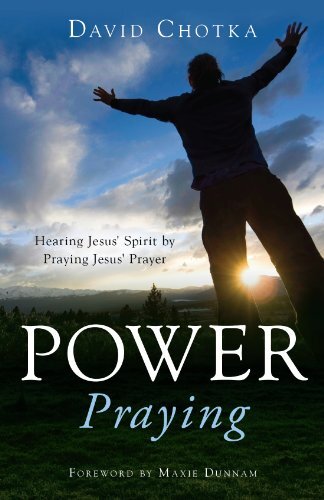 Power Praying
Hearing Jesus' Spirit by Praying Jesus' Prayer
With 2,000 years of commentary and writings on the Lord's Prayer, is it possible to glean anything new?
Power Praying proves the answer is "yes!" Unique and transformational describe the content of this personal or group study. You will be excited and challenged as you dig deeply into this model prayer. Learn to tap into the same power—through prayer—that was displayed in Jesus' ministry.
Power Praying can be used as an individual read, or in a group study. Divided into 8 weeks, each week looks at a phrase from the Lord's Prayer and provides helpful suggestions on including its principles in your own prayer life.
Reviews
"I would recommend this book to anybody wanting an interactive, intentional study on prayer. I look forward to reading this book everyday." - Cynthia